COBALT: A GEOPOLITICALLY SCARCE COMMODITY
In this week's edition Jacob Shapiro, our Senior Macro Researcher, explores the fundamentals of cobalt and why it is so different from other critical mineral commodities.
Cobalt is a scarce mineral commodity crucial the development of batteries and fuel cells. Unlike many other mineral commodities, cumulative global reserves of cobalt do not exceed projected demand.  Hence why a Trafigura executive made literal headlines when he estimated that cobalt supply needs to double by 2030 to meet the surging demand for electric vehicles. Cobalt is also used in superalloys for turbine engines in jet aircraft. According to the latest available data from the U.S. Geological Survey, the monthly average of U.S. spot cobalt prices is over 40 percent higher compared to last year and has spiked considerably in recent months.
Average U.S. Spot Prices and LME Cash Mean Prices for Cobalt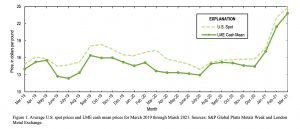 Source: https://prd-wret.s3.us-west-2.amazonaws.com/assets/palladium/production/atoms/files/mis-202103-cobal.pdf
Cobalt is also unique among mineral commodities because global production is highly dependent on a single source: the Democratic Republic of Congo (DRC). In 2020, the DRC accounted for 83.3 percent of global cobalt ore exports. In terms of overall production, the DRC accounts for well over half of global production. By comparison, no other country in the world produces more than 6 percent of annual cobalt production, which as noted above is struggling to meet increasing demand.
Share of Global Cobalt Production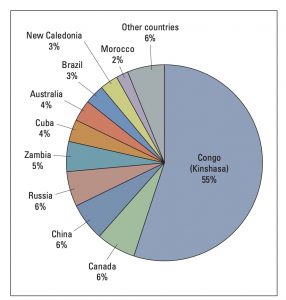 Source: https://pubs.usgs.gov/pp/1802/f/pp1802f.pdf
Cobalt is of particular concern because there is arguably no global commodity whose access is so dependent on geopolitics – not even oil. There is simply not a lot of cobalt available in the world, and to the extent that there are other cobalt deposits, they are not easily mined. The DRC, meanwhile, is a relatively unstable geopolitical entity. Just last month, President Felix Tshisekedi declared a state of siege for 30 days in the provinces of North Kivua and Ituri. Provincial governments will be replaced by DRC military forces or national police for the duration of the siege as the DRC government attempts to put an end to increasingly violent attacks by militias in the area.
Global Distribution of Major Cobalt-bearing Mineral Deposits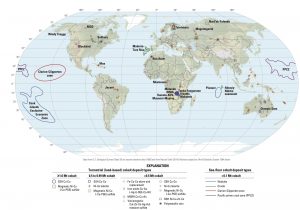 Source: https://pubs.usgs.gov/pp/1802/f/pp1802f.pdf
Geopolitical risks are crucial for most commodities, but perhaps none more so than cobalt. Accounting for geography is as crucial as any market fundamental when assessing the future.
Recommended content from our explorations this week:  
Sune Sorensen our Managing Director talks global trends and investing with the Perch Perspectives Pod here: https://perchperspectives.com/podcast/33-investment-macro-finance-and-geopolitics-from-20000-meters/ 
A USGS survey of economic and environmental geology and prospects for future supply: https://pubs.usgs.gov/pp/1802/f/pp1802f.pdf 
China expert Bill Bishop with excellent insights on the PBoC's most recent cryptocurrency crackdown: https://sinocism.com/p/new-museum-for-chinese-communist
A final thought…