The power of innovation…
To understand the World, you must understand the trends in technology and innovation that has brought us to this point and that will carry us to the next plateau.
In the summary of Carlota Perez's insightful exploration of 'Technological revolutions & Techno-economic paradigms' she writes; "Ignoring the potent role and influence of technical and institutional change in the shaping of the economy reduces the analytic capacity of economics." It's a sentiment we share and beyond the fundamentals of geography and demographics we consider the power of innovation, technology and 'an idea whose time has come' as historically proven catalysts for both change and for offsetting and overcoming some of the otherwise sturdy trendlines one can glean from the inherent fundamentals that a nation's geographical and demographical realities provide. As such, it must be part of your thinking, and as it is dynamic it must be monitored thoughtfully and continuously, or you may find yourself lost in the paradigms of the past or in a misleading hall of mirrors.
A constant state of flux: Technology adoption is faster than ever…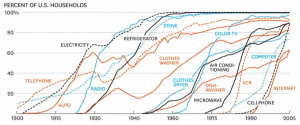 Source: BoA
Understanding innovation in a broader context…
 "The history of technology disruptions shows that long periods of technological stability are punctuated by abrupt systemic transformations, and often trigger rapid economic and social transformation. Disruption occurs when a new technology of equal or greater capability becomes available at a significantly lower cost than existing alternatives, after which the incumbent technologies are replaced very swiftly, with market share of the new technology rapidly growing from 10% to 90% or more, often within as little as 15 years. This pattern holds for dozens of historical disruptions across all sectors and industries. Conventional analyses and scenarios also tend to ignore second order effects that ripple throughout the economy and society, and therefore fail to anticipate the scope of societal impact. Technologies with equal or greater capability at a lower cost tend to expand market size, create new business models, and in many cases generate entirely new markets. As a result, the speed, scale and impact of technology disruptions is widely underestimated." – RethinkX
 'X' marks disruption – Some historical examples…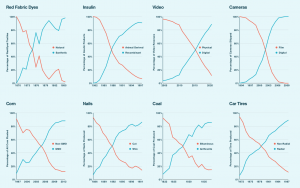 Source: https://static1.squarespace.com/static/585c3439be65942f022bbf9b/t/6107fd0ed121a02875c1a99f/1627913876225/Rethinking+Implications.pdf
Real innovation driven paradigm changes in technology, business and governance processes drives increases in productivity, cost reductions, demand growth, quality of life and cuts across sectors and geographies. It acts as both a catalyst and a foundation for further innovation and its effect are lasting.
Change is a process, not an event. Understanding the framework of the process can be rewarding. It is the framework that changes with each new innovation and not just the picture within the frame. Innovative leaps are rarely instantaneous, evolution is a creative grind of trial and error. The most difficult opportunities to identify and harness are the ones that arise slowly and continuously over time. Such large-scale broad societal, economic and technological trends tend to emerge gradually and can easily be overlooked, but they are the ones to watch as they tend to create the dynamics for lasting changes that in the scope of time leaves a lasting impact on whole industries, nations and global balances. Such trends are often irreversible once they get under way and can shift societies in ways that makes a return to the old practices inconceivable.
Lessons from the last major technological paradigm shift…
 The current IT focused revolution started with an initial technology system based around microprocessors and other integrated semi-conductors, they were initially used in military and civil miniaturizing and digitalizing of control instruments, then more broadly via early electronics such as calculators. That was followed by an overlapping sequence of microcomputers and personal computers, software, telecoms and the internet that have each opened up new systems trajectories, while being strongly interconnected and dependent. As they appeared, these systems continued to expand together with powerful feedback loops both in technologies and the markets they created.
The power of innovation: In information technology, cheaper processing, storage, bandwidth and hardware have led to rapid adoption of personal computers and mobile devices. That has in turn spawned innovation and value creations more broadly and disrupted every industry.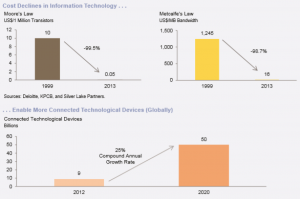 Sources: Cisco, Deloitte, Mooreland and Silver Lake Partners.
Investing in innovation…
Bill Gates has stated that "We always overestimate the change that will occur in the next two years and underestimate the change that will occur in the next ten. Don't let yourself be lulled into inaction." Whether you look at decades or centuries, the power of human ingenuity stands out.
It's always good to be an innovator, but it's even greater to be an innovator in the 'Age of Information & Telecommunications.' The US has led the semiconductor space since its beginning and it invented and build out the internet, in doing so it was in a position to harness the two most impactful innovations in the last 50 years. US companies have been getting a larger and larger share of the pie as 'software ate up the world' and in most cases deservedly so. Investors in the space has done extremely well, again deservedly so as they identified the right trends and backed the best ideas and navigated the creative destruction that followed in their wake. According to the 2019 Credit Suisse Global Wealth report, the US accounts for just under 30% of global private wealth, that's $106trln, much of which has been created in the last 3-4 decades by these dynamics.
When you control the initial roll out of a major new innovation, one that has the 'capacity to transform other industries and activities' and 'shake up the whole techno-economic paradigm with a best practices model for the most effective use of the new technologies within and beyond the new industries created by the initial innovation' you are in the optimal position. This is self-reinforcing as innovators within the space get the benefit of a 'first-look' at developments and as such are positioned to identify the optimal build out within the new techno-economic paradigm. They get to harness the new engines of growth and control the networks. The broader economy gets to benefit from the widespread productivity these new systems unleashes.
Skating to where the puck is going be (and away from where the ice is thin)…
 While software has been the driver for the last two decades, we appear to have reached the 'thin branches' of this innovation tree. More lasting and dynamic developments are setting roots in areas of the real economy that has long been relegated to the sidelines – energy, transportation, agriculture, manufacturing and material sciences spring to mind. A recent report by RethinkX (https://static1.squarespace.com/static/585c3439be65942f022bbf9b/t/6107fd0ed121a02875c1a99f/1627913876225/Rethinking+Implications.pdf) covers some of these dynamics and is well worth your time. Here are a few key illustrations that speaks to the opportunities and risks at hand.
Disruption in the Energy sector is underway…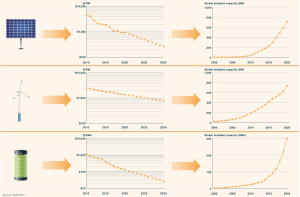 Disruption of the transportation sector has left the station…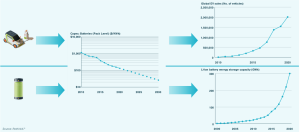 "The surprising speed of disruption: Disruptions are driven by the convergence of new technologies that trigger causal feedback loops within and across markets and sectors. History shows that these loops interact with and amplify one another, accelerating the adoption of new technology in a virtuous cycle while accelerating the abandonment of old technology in vicious cycle. We already see indications that incumbent industries in the energy, transportation, and food sector have entered their disruption death spirals because they have begun to lose their social license. For example many governments have now committed to phasing out fossil fuel use in the energy and transportation sectors and shareholders are demanding change as the value of firms like ExxonMobil, Chevron, BP and Shell has begun to erode." – RethinkX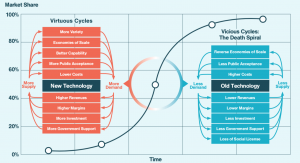 Source: https://static1.squarespace.com/static/585c3439be65942f022bbf9b/t/6107fd0ed121a02875c1a99f/1627913876225/Rethinking+Implications.pdf
Cascading effects of disruption lead to big surprises…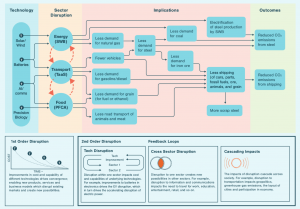 Source: https://static1.squarespace.com/static/585c3439be65942f022bbf9b/t/6107fd0ed121a02875c1a99f/1627913876225/Rethinking+Implications.pdf
As an investor and a student of economic history one can't fail to see the fact that innovation, applied in core economic sectors supported by favorable long-term trends, are the most consistent and lucrative returns generator in history. This is undoubtedly true from the invention of the wheel to the microchip. Investors must make sure they are aligned with the forces innovation are currently unleashing.  Superior investment results can only stem from a better-than-average ability to figure out when and where risk-taking will lead to gain and when it will end in loss. There is no alternative. Areas and times where great human ingenuity is deployed has historically rewarded discerning investors.